ART AND DESIGN
We believe that it is an important aim to develop art and craft skills, together with an appreciation of the aesthetic aspects of life. At The Alton, our pupils experience of a range of artistic styles and they learn to observe closely and develop an awareness of colour, pattern and shape. The pupils work in a variety of media and sketch books are used throughout the school. We learn about artists and genres of art as the new curriculum requires, enriching it with our own expectations.
COMPUTING
Our aim is for the pupils to be digitally literate so that they can use, express, create and develop their ideas using information technology. They will create programs using their knowledge and apply this in other areas of the curriculum, such as mathematics, science and design and technology. The school mainly uses chromebooks, we have at least 4 class sets and each child has their own unique login to be able to acces ther work at home and at school. We also have sets of ipads for the children to use. In addition to these, all pupils are well served with an interactive whiteboard in each of their classrooms. The teaching of computing skills forms an integral part of our teaching across the whole curriculum. Pupils are taught computing skills both directly and discretely, through other subjects. We seek to enhance pupils' confidence and learning by developing their skills and encouraging them to use these skills widely.
Children learn computer science through projects linked to their topics. They use various programmes to produce media to communicate to other classes and schools, to design and create products, and to input and analyse data.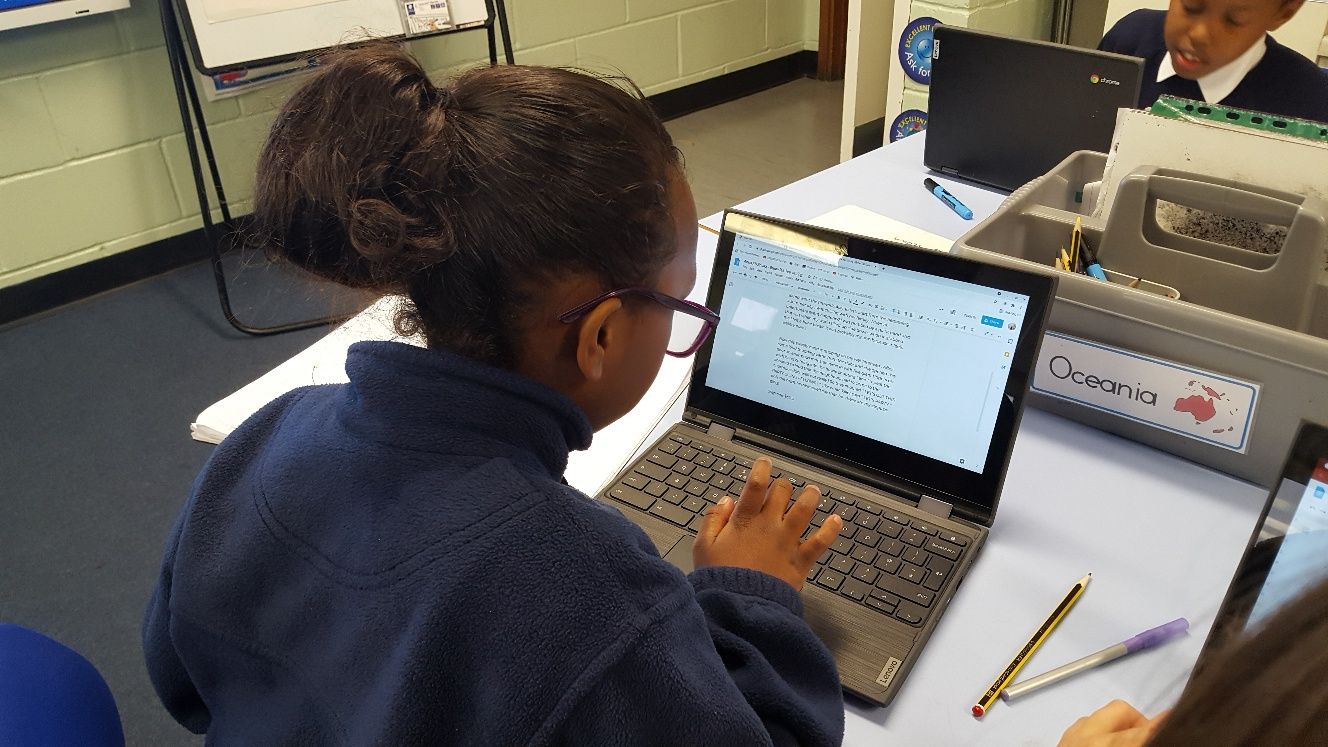 We use a range of software and some of it can be downloaded for free! See links below:
Google SketchUp – make a 3D model of anything
Google Earth – explore anywhere in the world
Prezi – create a presentation
Weebly – design a website
Scratch – Programming
All children have a Google / Seesaw email address from which they can access home learning, as well as being able to access all the information and content from LGFL.
We are lucky enough to partner with the Battersea Power project which provides reconditioned laptops for children to use at home. If you need a laptop for your child please ask at the office.
LANGUAGES
French is taught at The Alton to deepen the pupils' understanding of the French language and culture. We teach French in Key Stage one and two and provide practical opportunities for the pupils to communicate. Pupils focus on the spoken language and develop their vocabulary through songs and literature. They develop their understanding into writing and use this to present their ideas.
MUSIC
Music is taught to engage and inspire the pupils' knowledge and to foster a love of music. Pupils learn about music from different traditions and times, as well learning about composers and musicians. We are continuing to raise the profile of singing at The Alton, so every member of the school community will be a confident singer by the end of the school year.
PHYSICAL EDUCATION (PE)
All pupils benefit from our range of PE resources, our large hall and spacious site. They are taught the knowledge, skills and understanding of key elements of PE through dance, games, gymnastics and athletics. We focus on a sport for the whole school each half term and end with a competitive Whole School Tournament, including a Y6 vs. Staff match. Pupils learn to swim in Year 4 at Ibstock Place School.